It's all quite coincidental, but by way of a title for the project, it could scarcely be more apt.
The name 'Stenhouse'. The Stenhouse surname has a very old origin. The earliest extant record dates from around 1180 and is contained in a writ held in the Scottish National Archive where it is catalogued as a General Deposit – GD119/145.
Confirmation by Richard the son of Greg(ory) de Maleville of an agreement made between Galfrid de Maleville and Matilda Malherbe his mother by which the said Matilda received the land of Stanhus in excambion for the half of Retreuin which was her dowry; the said land of Stanhus to be held by the same marches as Greg(ory) father of the said Richard held it, and as freely as any woman holds her dowry.
There are later references in Charters dating back to 1246 and 1293, the latter of which contains the reference [and the use of the mill of Stanhus which lies beside Arthur's O'on within the barony of Dunipace]
The mention of Arthur's O'on in the last of these leads us to the meaning of the name. This was a stone building erected by the Romans during the time of their occupation – probably in the second century AD.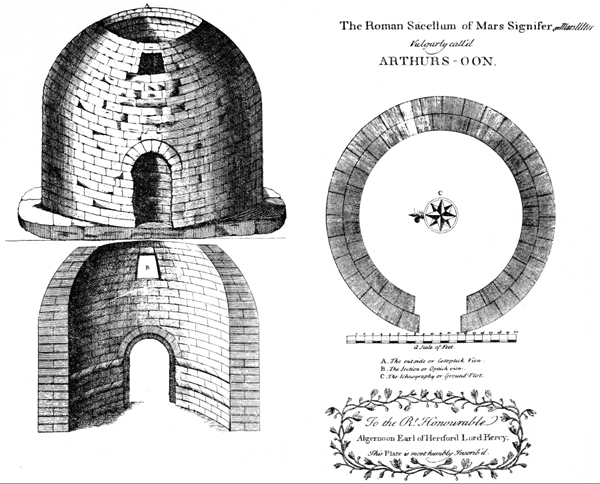 In these early times stone built edifices were few and far between and so for it to be described as a stan hus, that is a stone house is understandable and there can be no doubt that it was from the presence of this stone building that the much later Stenhouse estate acquired its name. In linguistic terms, the name is Northumbrian English; this was one of the strands from which the language known as Scots evolved. From this early rendering as Stanhus (pronounced stain-hooss) the name developed as Stanehous(e) with the first instance of lands of it as Stenhouse appearing in a Retour of 1601.
The surname Stenhouse is an accident of birth, and our engagement with stonework is a random path, and there is no greater mystery than pure coincidence, but we hope you'll agree it is entirely appropriate to call our own project to re-establish structural stonemasonry as  our own 'Stan Hus' Project.
Crowd Funding Objectives.
Scotland, indeed the whole of Europe has a long tradition of fine stone buildings dating far back into antiquity. From the finest Gothic Cathedrals, to the humblest stone bothy on a Highland croft; from the delicate touch of 20th Century Arts and Crafts back through time to the emerging Neolithic temples of Ness of Brodgar in Orkney built some 5000 years ago; after a fashion, all of it can be described as stonemasonry.
Or collective heritage features a vast reservoir of stone built properties. It has been a simmering cauldron of repair and renewal for centuries, where countless fine buildings have come and gone, and fate has smiled on the lucky ones, and frowned upon a great many more. The late 20th century has marked a watershed however. We have simply stopped building structural stonework. The cauldron still bubbles, we repair the buildings we cherish, we clad new buildings to look like stone, but be quite certain about it, our reservoir of stone built properties is no longer being replenished.
Commercial Road, Hawick, facing imminent demolition. Commercial Road or Death Row for stonemasonry?
We would very much like to challenge this creeping demise of stonemasonry.
We would like to introduce you to our Stan Hus Project.
Chapter 1. The Mansfield Road Workshop.
Our workshop is already underway and partially built, but progress has faltered as a direct consequence of the global Credit Crunch. We are struggling to maintain forward momentum in these difficult times, but adamant these ideas must still be pushed forward. If society had never broken faith with stone construction and true sense of value, then perhaps the modern instabilities and runaway property valuations which have so distorted and weakened our economy might never have happened.
Chapter 2. The Stan Hus Prototype Unit.
Our prototype could be built under current building regulations, however we are keen to push the boundaries of the construction across a variety of levels.
In terms of performance, the construction can deliver a prescribed U value, however we want to go much further and look at the holistic processes throughout the whole building. There is a unique opportunity to manage air movement inside the built fabric, and explore opportunities for possible heat recovery, greater air movement without associated heat loss, and even the possible effect of greater air movement helping to resist the proliferation of germs and bacteria in static environments.
The performance is of course a fundamental feature of the construction method, however there are environmental considerations too. We don't wave the big 'green' flag, because frankly, the real green option is not to build at all, but within 'greenish' parameters, our method performs very strongly.
Performance. We deliver full thermal performance.
Durability. We aim for an excellent lifetime cost in use though extended design life for the property. We try to avoid perishable materials, and reduce dependency on plastics while pushing the performance on those we do use.
Recyclability .  We enthusiastically salvage and reclaim materials which are still fit for purpose, and build using traditional limes in the hope that the same materials will be fit for recycling when our own building is taken down.
Creativity. We believe in creative expression being married to skilled crafts people. Our project is all about reminding people just how valuable these skills are, not in financial terms, but in terms of the expression and presence  our modern buildings project.
Substance. We believe investing in property must always take the long term view. Building things to last is quite simply the right way to build property as durable asset and permanent embodiment of our wealth and for our wealth.
This construction method is not an exercise in indulgence to cater exclusively for luxury properties built in stone. We honestly believe our method is cost effective and practicable for even for social housing. Why shouldn't that be built to last too?
Nor is this venture a real estate development. It is a prototype proof of concept, just like any other commercial product. Our primary interest is re-establishing the trade of stonemasonry as a viable alternative for new build construction, and that requires product, research and development, and marketing. We need a prototype to operate and analyse holistically, and have people inspect and walk around for themselves. If this doesn't happen, if nobody were ever to do what we are trying to do, then we have stopped building structural stone buildings, and a single generation is all that is required to wipe out vast swathes of knowledge and expertise which has developed over centuries. It is already happening.
Our Crowd Funding Initiative.
We are aiming to raise £100k to assist us in our objectives by crowd sourcing support from individuals who recognise the significance in what we are trying to achieve, and share our fundamental ethos that properties should be built to last, and properly be the work of creative tradesmen and crafts people. Traditional method can and should be modern method, and building things to last once again become a feature of our design criteria. It was after all, removed without our permission.
Considering what we are trying to do, this is not a generous budget, but it will enable so many things to proceed. If we raise more than our target, then so much the better. There is so very much more we would like to do.