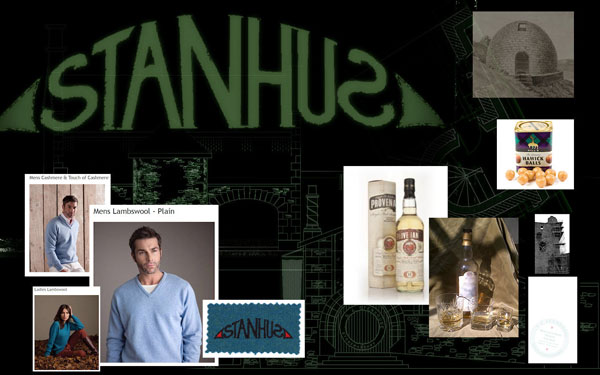 Our Pledge Rewards:
Our Knitwear.
Our knitwear pledge rewards all come from Hawick Knitwear. Hawick Knitwear is at the heart of the Scottish knitwear industry and can trace their proud history of manufacturing
back to 1874. Ever since then, we have been perfecting the art of designing and producing knitwear to the highest possible quality standards. All sweaters and pullovers are made in our factory by skilled craftsmen and craftswomen with decades of experience behind them. The Hawick Knitwear brand encapsulates this incredible heritage.
http://www.hawickknitwear.com/
Our Whisky.
Our single cask of Single Malt Whisky will come from the Provenance collection of products from Douglas Laing and Co, in Glasgow.
Through its distinctive labelling the  Provenance Single Malt collection highlights the particular distillation of the seasons through Spring / Summer / Autumn / Winter. This ever increasing series of specialist Single Cask and "Small Batch" bottlings features many of Scotland's legendary distilleries and a range of different ages. They bottle Provenance in the traditional style – not coloured, not chill-filtered and typically at 46% strength – this allows the full quality of the nose, palate and finish to be fully enjoyed.
Our Glass Products.
Our glassware is the finest quality of glassware and comes from Scottish Borders Art Glass.
Scottish Borders Art Glass is situated in the rolling hills of Southern Scotland, on the outskirts of the town of Hawick, within the area of the Scottish Borders. It is here you will find the ancient skills of glassmaking being practiced by Peter and Andrew Holmes, Father and Son.
http://www.scottishbordersartglass.com/
Hawick Balls.
Anyone who knows rugby will have heard of Hawick Balls.
The one and only Hill's Hawick Balls were made famous by the legendary rugby commentator Bill McLaren. These boiled sweets are minty and buttery at the same time and come in a wonderfully retro tin, but don't let that fool you these are the original Hawick Balls made to the same secret recipe they always were.
http://www.fergusonschocolates.com/traditional-sweets/hawick-balls.html
Our 2014 Calendar.
Scott and Paterson Ltd produced an excellent calendar for us in 2010 which was very well received, and we would be delighted to repeat the process again.
Email: scotpat9@hotmail.com